Note: I had started this post over labor day weekend...and just never finished and posted it. To say a LOT has happened since then is a bit of an understatement, but I'll catch everyone up on that soon!!
Since both Paul and I had the Labor Day weekend off, we thought we may as well go somewhere. Being the sometimes nice girlfriend that I am, I decided that we didn't have to fly since Paul is still a big baby and afraid of planes... and driving meant we could take the pup. So, since our choices were limited to destinations within driving distance of Phoenix, we opted for San Diego - best decision ever!!
We woke up super early in the morning and hit the road with our bikes and Wheeler's sweet new ride loaded in the back. After driving through the desert highway lined with sand dunes, along the Mexican border, and then over a little mountain range we made it into the SD around lunch time. Starving, we decided to be a little healthy and checked out this delicious little vegan place,
Evolution Fast Food
- OMG their vegan burgers were
HUGE
and delicious. Then after wearing out the pup & dropping him off at the hotel to take a little nap, Paul and I explored the city by bike :) We also checked out the Gaslamp District later that night again, and we weren't impressed. I'm sorry if that upsets anybody from Cali, but after living in Austin for so long with 6th street at our disposal, Gaslamp was waaaaaaay too overpriced ($8 for a well drink or beer).
Then on Sunday, the real fun came. We took the puppy (in his sweet ride) to the dog beach on Ocean Beach. After a grueling 5 mile bike ride each way, which I swear was against the wind both ways since I was pulling Wheeler, we finally got there. For his first time ever seeing a wave or the ocean, I think he did pretty well :) We then tried, and failed, to see a sunset over the ocean at Point Loma, so instead we got what may have been the
Greatest
tacos I have ever eaten. I know that is a bold statement, especially for a girl from Texas where the taco is king - but these things were delicious! If you are ever in San Diego you must, and I repeat must go to
Ortega's
to get some tacos - if not for the food, for this pretty awesome dog that was chilling outside with us.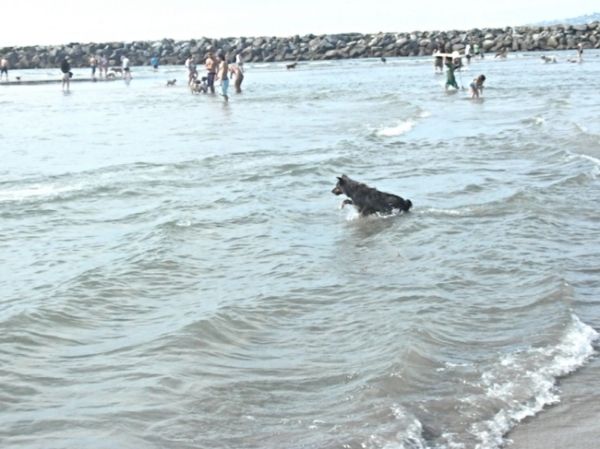 So in summary, San Diego was awesome & I hope you have a great day :)